Who wants to save some cash on hotel bookings
the next time you are going tripping?
I, for one, certainly want to! I mean, there are fewer things than saving money on accommodations that can really give your trip that much needed jumpstart. And if you are one of my types too, make sure you are staying with me and reading on.
Because today, I am going to pass on an Airbnb credit chunk in your pocket, right here, in this very post to help you save the next time you travel and book.
SAY HELLO TO AIRBNB!


Airbnb is a community marketplace for people to list, discover and book unique accommodations at any point in time, at any place in the world. Thriving on the traditional host-guest relationship in a sustainable fashion, it aims to connect people to unique travel experiences, at any price point, in more than 34,000 cities and 190+ countries.
Impressive with tonnes of pictures and accompanying reviews for the listed accommodations, the website worked like a breeze the first time I browsed through randomly. And some of these properties – they made my jaw drop, literally!
These are homes I have always dreamt of, living in someday… a cozy rustic hideout in the midst of a jungle, a lot of woody interiors, the music of the birdy chirps wafting in the air, tea drinking sessions with stunning mountain views in the distance and a lot of creative and arty stuff to keep me occupied… It's good to know that with Airbnb, such homes actually exist!


Moving ahead, I went on and created a wishlist consisting of 5 interesting properties that I would like to visit someday. Check them out below:


1.

"A-Frame" Rustic Off-Grid Cabin: Forest Route 17N, Gasquet, CA 95543, United States.

I love anything old, rustic and remote. Add some wood in there and you make sure, you get me - totally. This is how the property managed by the hosts Jane, Dan and Nick caught my eye. They describe their property as a small, rustic, hand built cabin deep in the Northern California woods, part of a remote, off-grid "village" including a few other cabins, dogs, frogs, permaculture gardens and all kinds of cool, sustainable, DIY infrastructure which is something I would definitely like to check out someday!
2. Cottage on private island near Ottawa: Ottawa, Canada.
Ever imagined living in a funky old cottage on a private island? I have. And this next property in my wish list speaks just that. Boasting of spectacular water views all round, yet secluded from other people, this 100 year old base, now renovated still shines in original charm, and looks promising enough for a great Canadian cottage experience.
3. I SETTE CONI - TRULLO EDERA: Ostuni, Brindisi, Italy.
The next property took me to the enchanting surroundings of the town of Cisternino... The picture of the property with the branches of olive tree in the background was enough to entice me in. Set in an elevated position with a stunning view, the home looks like a heaven of peace and tranquility seated in the lap of nature. It's the kind of place where I would like to pick up a good book, or take a short walk to explore the small country streets or the nearest beaches and then - blog about it!
4. Tree Sparrow House, Cornwall: St. Keverne, England, United Kingdom.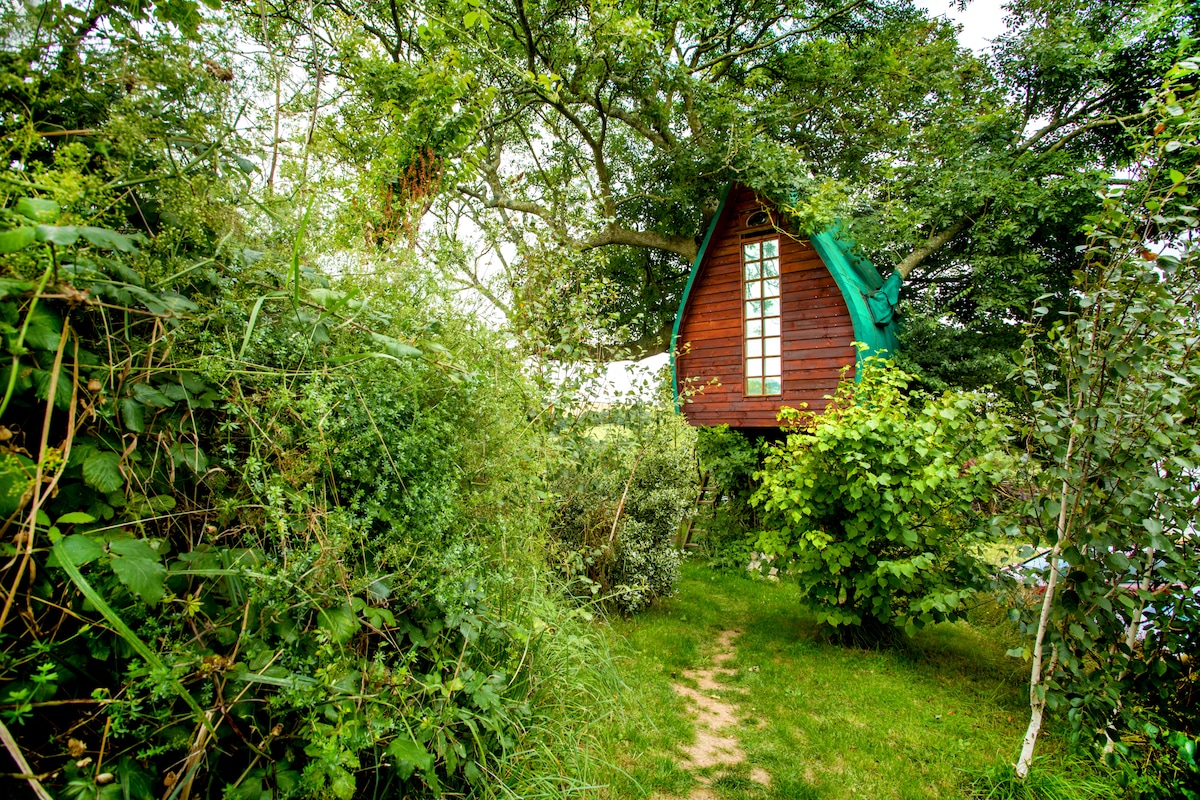 Magic! Always fascinated for all things magical right since childhood, there was no way I was going to miss putting this one on my wish list. Hosted by Outlandish Holidays known for creating magical holiday experiences, I particularly loved this tree house as not only was it enveloped in a lot of greenery but is also close to the sweeping sea making it a a perfect place for a cozy, relaxed and an unwinding experience!
5. Mountain Octagon: nature-views-art!: West Augusta, VA, United States.
And, last but not the least. This one is my favorite. Why? Because it combines all that I love in one house, in one place and in one destination - Nature, views and art! Really, there is nothing more I could ever ask for.
Mountain Octagon -- nature-views-art!
These are homes where I would love to stay someday...
What's your idea of a dream home away from home?
Okay, coming back to our topic again, let me tell you more about the $25 discount you can gain the next time you make a booking through Airbnb. Please follow the steps below:
CLICK HERE to enter my special Airbnb invite for you.
Once you are in, do you see a page saying, Arti invited you to join Airbnb? Below that, there is a button that says Sign up to claim your credit. Click that button!
Here, you need to sign up via Facebook, OR your email address.
Note: If you are already registered with Airbnb, choose the 'Sign up with Email option' and create a new Gmail account for yourself as this $25 Airbnb promo code offer is only valid for new account signups.
Sign in. Click on your Name on the top right hand side of the toolbar and click on Edit Profile. Fill out your profile completely for authenticity.
Hurray! You are done! Time to plan your next trip!
Remember! HOW TO USE YOUR AIRBNB CREDIT AND AIRBNB COUPON TERMS & CONDITIONS
As with just about any discount or deals, there's got to be an asterisk pointing to its terms and conditions. Below, I'll quickly highlight 2 very important points you need to know now that you are ready to avail the $25 discount you have just received.
You must book a qualifying reservation in order to take advantage of this deal.
A qualifying Airbnb reservation must have a total value of $75 dollars or more.
Your reservation must be booked and paid for via the Airbnb platform.
All reservations must be booked and paid for via Airbnb in order to receive or redeem travel credits. What this simply means is that, Airbnb

doesn't

want you dealing with landlords or homeowners outside of their domain as this comes under terms of service violation. Simply roam around in Airbnb and book your stuff while you are there.
Well, that just about wraps up this short guide on how to save $25 on your first Airbnb reservation. Till next time then, hope this travel coupon helps you in your travels and if you have got some personal Airbnb stories to share, please do so in the comments section – since I am yet to try their services myself, I would love to hear them out from you!