An empty page rests on my table with an orange colored sketch pen on top. The barren nature of the sheet gestures me to write.
"What is your hope for 2014, in one word?"
----------------------------------------- *
-----------------------------------------
13th December, 2013: A Milaap #HopeProject meet for a social cause is announced by IndiBlogger and I register. The bold print reads: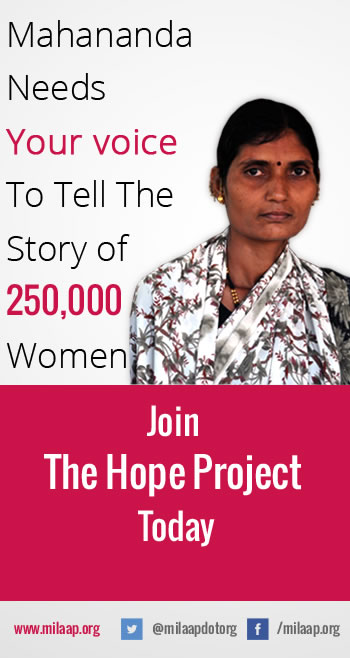 What catches my attention is something in the finer print though.
"The aim of Milaap #HopeProject is to shed some myths about the Devdasi practice and invite small loans for the micro enterprises of these women.
These small loans in turn empower the women
who can set up small businesses and escape from this cycle of hopelessness."

The word 'Devdasi' strikes a chord. I vividly remember seeing a documentary on it some time back on TV. Aren't these the same women who were once traditionally married to temple Gods but later came to be shoved into a practice of prostitution and flesh trade? I am right and I am now curious to know more.
It is 22nd of December today

and I am attending the IndiBlogger-Milaap #HopeProject meet in Marine Lines, Mumbai. At the venue are organizers, members of Milaap and a family of (Indi)Bloggers including me.

Milaap: United in thoughts

The meet kicks off with a chorus Christmas Carol singing which is followed by a few introductions, presentations by the Milaap team, some discussions and a lot many opinions. But what delights me the most is that all of us present are united in one thing – change - To make a difference in someone's life through our words, actions and deeds, no matter how small.
Though it's been only 2 days since the meet yet today, I fail to remember all that was spoken or discussed during the entire course and to be very honest, neither did I understand all of it. Sometimes I lost track of the thread and sometimes things simply failed to register, so here I am simply presenting a few snippets that made an impact enough that I am voting my voice for Mahananda, baring open everything of all that I can remember in an earnest endeavor to lend my small hand towards what I believe will strengthen someone's hope tomorrow.
"It is not the lack of jobs exactly but the social stigma attached to them.
The social stigma leaves the devdasis with no place in the eyes of the society.", says Anoj, a co-founder of the Milaap #HopeProject.
"Social stigma" : These words stick in my head for the rest of the afternoon. I sense how difficult it would be, for these women to live their life with a social stigma attached. I wonder how difficult it is for them to break this stigmatic circle of existence and live a normal life. A famous proverb in Hindi flashes in my memory... 'Bad se badnaam bura' (meaning, a bad reputation is worse than a bad deed). Till today, I had only heard people say it. But here I am, sensing it right now. By listening first hand account to stories of a few women breathing it every day. The realization is disturbing.
When I can live a normal life every day, why not these women?
Why do they not have the basic choice to live their life with dignity and respect?
Thoughts like these force me to ponder more. Milaap and team register a point.

Who is Mahananda?
Lights go dim, off. The room gets darker. Two projectors are switched on the stage before us. They now provide for sources of illumination for the room packed with 40 odd people. This is the video of a woman named Mahananda, an ex devdasi who shares her tragic story wrapped in courage and determination. She is among those who had the valor to break her system and is now empowered with her own tailoring business. She is eager to feed her kids and educate them to the best of her abilities. Like every mother, she dreams of seeing them grow into bright, confident human beings one day. This video touches me, deep.
A
story in resilience and courage,
The story of an ex devdasi woman, Mahananda

More than Mahananda, it is the foreigner girl in the video that makes me sit up and take notice. She reflects so much of me. I find her views and the entire video inspiring.

My joy this Christmas!


I am handed one complimentary e-gift Milaap voucher worth Rs. 1000. With this, I can make a loan to any profile of my choice listed on the Milaap fund raising page. I browse, hovering my mouse over the various pictures – I can see women, one after another, in their late forties and fifties, who have pulled themselves out of a torturous societal system and today running small businesses in a hope to fulfill the needs of their children - I click on one of them instinctively and decide to lend my loan amount of Rs. 1000 to her.

I love this feeling of joy of giving that comes along so naturally with the advent of the Christmas season. The season of sharing. And caring. It is that time of the year which reminds me how blessed I am with so many opportunities, so many resources and it's a great time to do something good for those around you. Why? Because at the end of it all, I know I will be left with something far more valuable than I could ever lend... a true joy in my heart... a feeling that shall be inexplicable...

She's Roopa, an ex-devdasi, running her own photocopy and paan shop in a small village in Belgaum, Karnataka. And with the loan I just made, WE are now connected.


----------------------------------------- *
-----------------------------------------
I didn't expect to go to the meet and make a difference right away but if I, as a blogger, can help in some way, make a difference to somebody's life; I guess that for me is my greatest gift.
Today, the meet has come to an end and I am back busy in my usual routine life... however, something still remains: the image of Roopa, her story, her vision, her hopes...
I feel happy in my heart as I silently wish her business prosperity;
her image brings a smile on my face. Smile...
SMILE:

is the word I scribbled on my blank sheet of paper, my hope for 2014.
I am excited to keep a track and hear more about my entrepreneur-borrower Roopa Chalvadi in the coming days. For now though, I just hope my small help is helping light a smile on her face this Christmas.
I lend. It's simple. Joyous. And effective.
What are you gifting this Christmas?
Wish to know how Milaap #HopeProject works? http://milaap.org/how-it-works
Wish to lend? http://milaap.org/fund
Have questions?:
http://milaap.org/contact-us